cad nauseam
AutoCAD Consulting, Development, Support, Training and Writing
About The Owner
Professional
cad nauseam owner Steve Johnson has been an AutoCAD specialist since 1985. He probably became best known around the world for his infamously large AutoCAD Release 13 Bug List, which he maintained as part of his duties as the Bug Threadmaster of the now defunct CompuServe ACAD forum. He is a Contributing Editor of CADALYST magazine and since 1995 has written the monthly Bug Watch column, which is now exclusively on-line.
Steve is also a past President of the Western Australian AutoCAD User Group (WAAUG), but currently has no involvement with that group. As a former committee member on the Applications Programming Special Interest Group of the North American Autodesk User Group (NAAUG APPROG SIG), he has also contributed to the NAAUG Newsletter. NAAUG is now known as Autodesk User Group International (AUGI). Steve was part of the AUGI Benchmark Committee, which assisted in the development by Mark Middlebrook of the AUGI Gauge, a comprehensive AutoCAD benchmark.
Steve holds a Bachelor of Applied Science (Information Science) degree. He has developed many hundreds of LISP routines and other AutoCAD customization files in his career and prides himself on producing high quality, low maintenance software.
Personal
Steve Johnson lives in Perth, the capital city of the state of Western Australia. This state is about the same size as Western Europe, but has a population of only two million, most of whom live in Perth. This beautiful city, located on the Swan River, has a Mediterranean climate and pristine beaches. The Swan and Margaret River valleys provide excellent wines and attractive areas to visit.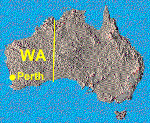 Location of Perth and Western Australia
Steve enjoys drinking wine, eating Japanese food and driving very fast around corners (not simultaneously). He once played cricket very badly (this is a game like baseball except all the rules are entirely different) and was also a keen fencer. He gave up these sports when he became old and boring, and now occasionally plays golf very badly. If threatened with violence, he sometimes agreed to play basketball even though he was somewhat less skilled at this than he is at other sports. He is now too old and boring even for that.
He speaks enough French to be able to ask for a room with a shower, and enough Japanese to ask you what time the party will start. His other interests include boasting about his remarkably cute daughters, listening to classical and hideously unfashionable progressive rock music, wallaby wrestling, naked strawberry picking, moderate consumption of Shiraz, Chardonnay and Teppan-Yaki, and delicately balancing throttle and steering at the limit of adhesion.
A few years ago,Steve gave in to practical family considerations and parted with his little old Mazda, to be replaced by something safe and sensible. Something larger and more capable of carting a couple of cute kiddies in comfort. A four wheel drive, perhaps?
| | | |
| --- | --- | --- |
| | | |
| Steve in his little old Mazda (1991-2001) | | Steve's four wheel drive (2001-) |