Early last year, I ran a poll to gauge your feelings about CAD in the Cloud. Here are the results of that poll: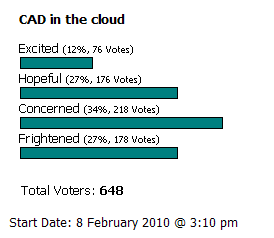 As you can see, the poll response bell curve was clearly biased toward the frightened end of the spectrum, and there was little in the way of excitement at the Cloudy prospects for CAD. A fair bit has happened since last February (particularly the recent Autodesk Cloud announcement), so I thought I'd see how the ground lies at the moment. Are you feeling more positive about Cloudy CAD than you were 18 months ago? 
I've just added a poll for you to vote on, identical to last year's. In addition, I'd love to see your comments on the subject. Is CAD in the Cloud inevitable, or is it not going to fly? If you don't think it will take off and take over, why not? Is it going to be Heaven, Hell, or somewhere in between? I have my own views, but I'll keep them to myself for now; the floor is yours.