Akamai is an Internet/Cloud infrastructure company, used extensively by Autodesk. To be polite, my experiences using its services over several years have been somewhat negative. Back in March, when trying to download the AutoCAD 2012 trial, I went through the usual Akamai download manager struggles before being informed of the wonderful Opera workaround (thanks again, Helper). I thought I'd seen the last of Akamai for a while, but today, while left unattended, Windows threw up this warning: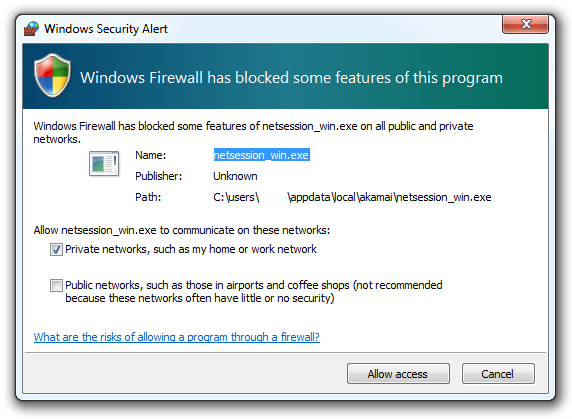 Huh? What is Akamai software trying to do here? I hadn't asked it to do anything. I'm not downloading Autodesk software or even visiting an Autodesk site. There's no reason for it to be running at all. Whatever it is, I don't like it. Time to uninstall anything and everything Akamai, I think; something I should have done back in March. But wait! When I go to uninstall, what do I see? This:
Note that the dates are in DD/MM/YYYY format. There's an application installed back in March, for which I granted permission (unwisely, apparently). OK, but there's another one installed today! No permission was sought or granted. Right, that's it. Akamai is now on my brown list, which is not a place anyone wants to be. Nothing in any way related to Akamai will ever be installed any my computer or any computer over which I have influence or control. If Autodesk continues to use Akamai's services, Autodesk can expect to see continued strong criticism in this area. Unless, of course, somebody from Autodesk and/or Akamai can provide a reasonable explanation of what's gone on here. Over to you.