This blog has been a bit quiet over the last couple of weeks, as I have had other things to occupy me. I have recently returned from the Commonwealth Fencing Championships 2010 which were held in Melbourne from 30 September to 5 October. There, I was representing my country in the veteran (over-40) events. Which country? Read on.
Fencing is one of the few sports to have featured in every modern Olympic Games, but at Commonwealth level it has been held separately from the main Games since 1970. Although not part of the Commonwealth Games currently being held in Delhi, fencing is a Commonwealth-recognised sport and the Commonwealth Fencing Championships is a sanctioned event. It is a fairly large event, with representatives from 15 nations. There were 51 fencers in the England squad alone.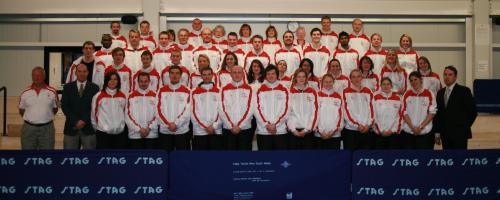 You may recall me mentioning my participation in August's Western Australian International Tournament, where I managed to snag a win in Veteran Men's Sabre and a third place in Veteran Men's Foil. At that time, several people raised with me the possibility of national representation. After some thought and with the support of my family, I nominated for Australian selection in Veteran's Sabre at the Commonwealth Fencing Championships, where there were still a couple of places available. However, I was eventually knocked back and others were chosen for those places.
Not entirely content with the way in which this had been handled, and with just a couple of days to go before the deadline for entries, I contacted England Fencing. That organisation was happy to find me a last-minute spot in the team representing the country of my birth, England. This was the place where I had learned to fence and spent most of my fencing life. As a bonus, I could fence in both Foil and Sabre and would have a chance of qualifying for the team events based on my results in the individual events.
When I turned up in Melbourne, I was wholeheartedly accepted by both my new England team mates and the generally amused Australian fencing community. The spirit of camaraderie and sportsmanship among veteran fencers is excellent, and there were handshakes and back-slaps all round. My England team mates enjoyed having a "tame Aussie" on their side. I doubt that any of them had ever before been encouraged by one among them shouting the very Australian expression, "You bloody beauty!", but nobody seemed to mind.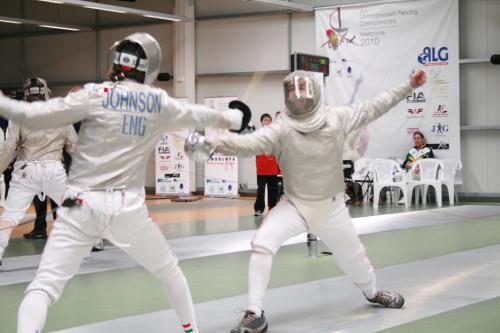 I was very pleased with my results, coming 12th in the Veteran Men's Sabre event, finishing above 8 Australian fencers. I was even happier with 9th in Veteran Men's Foil, which placed me above not only 9 Aussies, but also above most of my England colleagues, thus qualifying for the Team Foil event. It was very exciting to fence on the Finals Piste with full ceremony in front of a vocal crowd. Unfortunately, England was beaten by Australia and New Zealand into the bronze medal spot, but at least I was a Commonwealth medalist!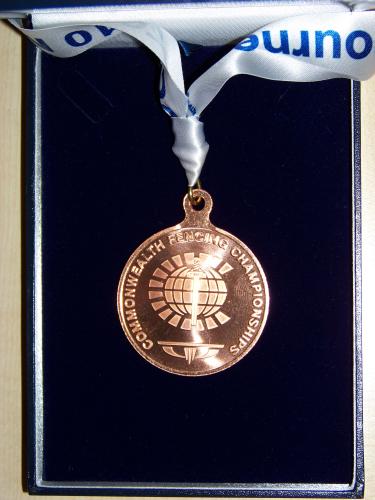 It was a very emotional experience for me to receive my medal on the dias alongside my England colleagues, even if I had to remember not to sing along to Advance Australia Fair when the flags were raised.