I reported in January that, "The way Autodesk Collection licensing works, you can't use more than two of the products in a Collection at once."
Thanks to a policy reversal from Autodesk, this is no longer true. Felice on the Autodesk forums shared the good news:
Hi all, I have an update to share on this topic… we are removing the Industry Collection concurrent usage policy limitation. Here are some more details/background:

Overview:
Currently, the Industry Collection concurrent usage policy limits the number of collection products that can be used at the same time to two. The terms and conditions related to Industry Collection concurrent title access stated:

2.1.1 Notwithstanding anything to the contrary contained in the applicable Autodesk License and Services Agreement relating to any Industry Collection software program Benefit, the maximum number of Concurrent Access Titles that You or Your Named User may Access concurrently shall not exceed two (2) Concurrent Access Titles, at any one time.

Effective immediately we are removing this restriction and allowing customers to use as many products concurrently within the collection as they need to support their workflows.

Why we have removed this restriction:
The Industry Collections continue to evolve and are increasingly focused on the support of multi-product workflows. The restrictive nature of the concurrent usage policy does not support this progression.
The Autodesk Knowledge Network page on this has been updated accordingly: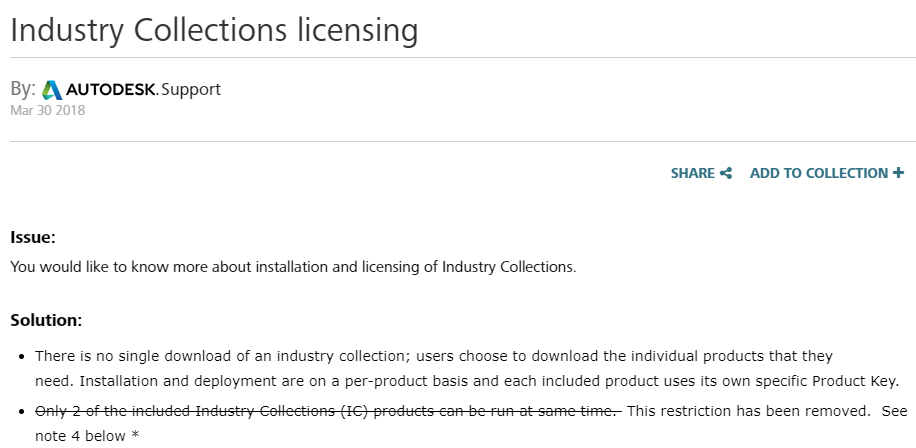 This also applies for license borrowing, but only for 2019 products and later.
While this restriction should never have existed in the first place, it's good to see it gone now.
Moving when prodded is alive at Autodesk.