BricsCAD V18.2 for Windows is out. The new stuff in this mid-term update is again showing up Autodesk's lack of progress with its once-flagship product, AutoCAD. I'm sure Autodesk would love customers to accept that there's only so much anyone can do with a DWG-based CAD product once it reaches a certain level of maturity. Customers should get used to nothing of significance being added year after year. Diminishing returns, and all that. Pay to continue using the product, but don't expect it to get better.
What a shame for Autodesk, then, that Bricsys exists. By consistently providing a raft of significant improvements with each full and mid-term release, Bricsys shows up that idea as nonsense. It's perfectly possible to keep improving CAD at a very rapid rate, particularly if you're not worried about competing with other products in your range. There's a reason AutoCAD's parametrics are restricted to 2D, and BricsCAD's 3D parametrics in a DWG product proves that the reason isn't technical. It's strategic. Also strategic is cutting the guts out of an already much-weakened AutoCAD team, because you would really prefer your customers to be using your trendier and/or more expensive products.
I should point out that BricsCAD V18 customers who have a perpetual license, even without maintenance, will be receiving V18.2 with all its improvements free of charge. Contrast that with Autodesk, which is, despicably, withholding even bug fixes from selected customers. Autodesk's attitude to customers who aren't constantly paying up front is one of utter contempt. Autodesk feels entitled to your money; Bricsys wants to earn it.
So what's Bricsys done to earn your money with BricsCAD V18.2?
Mostly, it's lots of relatively small-sounding things that add up to significant productivity enhancements. There are several items that are playing catch-up to AutoCAD, such as long-overdue in-place text editing. There are big performance improvements in drawings with PDF underlays due to a smart multi-resolution cache mechanism. The 3D-to-2D generation mechanism has also been significantly sped up. Constraints (2D and 3D, unlike AutoCAD) are easier to create. Several 3D direct modeling operations have been made easier. That also helps with sheet metal design, which has seen other improvements.
In Bricsys BIM V18.2, a lot of smarts have been added. The mechanism for converting CAD models (including those made in BricsCAD Shape) to BIM models, BIMIFY, already did some fascinatingly clever things, but that's been improved further particularly in the areas of structural member and room recognition. For those of us in Australia, support for our steel sections is very welcome.
For me, that's not the big news. Oh, no. The big news for me is a thing called BLADE – the BricsCAD LISP Advanced Development Environment.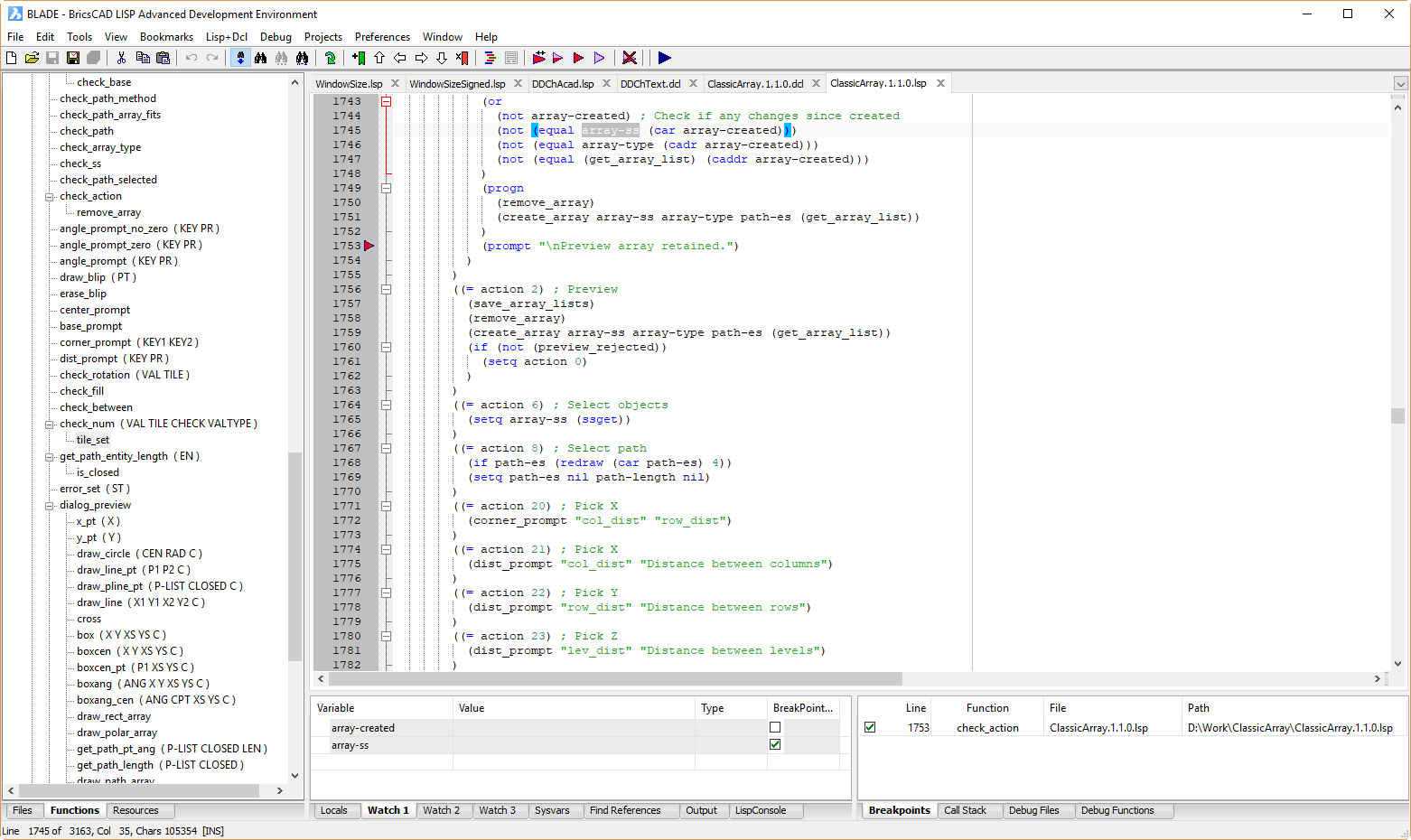 If you're a CAD Manager or in-house developer and you've been waiting until BricsCAD had VLIDE, wait no longer. But this isn't just catch-up. This is a big leapfrog over Autodesk's sadly neglected IDE for CAD's primary user programming language. There's so much good stuff in BLADE that I can't hope to do it justice here, so I will be covering it extensively in future posts. For now, here's a statement for you:
If you program in AutoLISP or Visual LISP, you should be doing it in BLADE.
It's that good. Really. Watch this space for details.
The download is small, the install is fast, it won't harm your AutoCAD installation, and you can evaluate it free for 30 days. Links: