At the Bricsys 2017 Conference in Paris, one of the biggest surprises was the announcement of BricsCAD Shape. This product was demonstrated live, very impressively, in pre-release form. As I live-tweeted at the time, the demo jock was able to create a pretty decent architectural model in minutes, from scratch, very easily. That product has now been released.
What is BricsCAD Shape?
Shape is a 3D direct modeling application. At the core, it's a simplified BricsCAD BIM. That means it's small, fast, stable and it uses 2018 DWG as its native format. These are all good things. It's obviously aimed at the AEC market, but there's nothing to stop anyone using it for anything. Use it as a lightweight DWG viewer/editor if you like.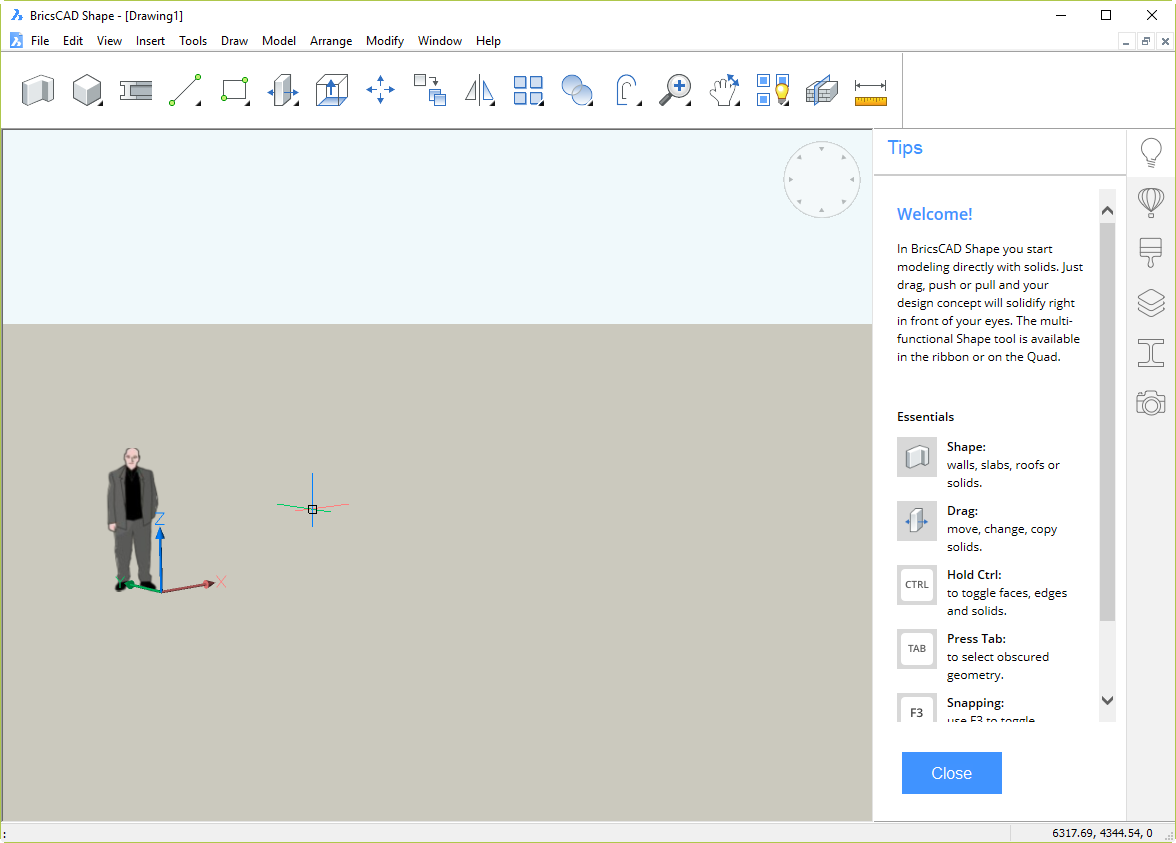 As you can see, it has a very simple, clean, cut-down interface. That dude is French Architect Jean Nouvel, by the way. He's a block; you can erase him. He doesn't appear in DWG files from other sources you open in Shape.
The idea is to do most of your work with the 18 buttons in this mini-ribbon/monster toolbar thing:

For less common operations, there is a set of pull-down menus. Although it's hidden by default, you can even turn on a command line (Shift+F2) that will be very familiar to AutoCAD and BricsCAD users. Try to do without it; you will then discover how the excellent Quad Cursor interface (inherited from BricsCAD) uses AI technology to save you time and clicks.
How do I get it?
Click this link, enter your email address (no, they won't sell it to spammers), and download away. Unlike Autodesk downloads, there are no nasty Akamai download managers to contend with, no multi-stage install processes, no massively bloated files, just a straightforward download of a 212 MB MSI installer. Time to download for me on ADSL2 was 2m 56s. The install time, including user interactions was 36s. Time for the first startup, including online registration, was 15s. That got me to the startup screen. The time for the first drawing startup was another 10s.
You can be using Shape in under 4 minutes. That is, you could be using it yourself in less time than it takes to read what I have to say about it.
How is it licensed? How much is it?
It's a perpetual license, and it's free. Bricsys has stated that it will always be free. Not much to complain about there.
So what's in it for Bricsys?
The problem Bricsys faces in churning over large numbers of Autodesk's disgruntled customer base is not the products. The products are fine. BricsCAD is notably superior to AutoCAD in a bunch of significant ways (while remaining inferior in a handful of less important ways), and costs a fraction as much.
No, the problem Bricsys faces is in persuading large numbers of people to try its products. Shape is an attempt to make that happen. It's an ice-breaker in a way that goes beyond the usual 30-day free trial product.
There's hardly any bar to entry; anybody with an email address can own it with zero investment. The interface has been kept very simple and there are a whole bunch of bite-size tutorial videos that demonstrate how to do things. If this product can create a buzz and get people to use a Bricsys product, half the battle is won. The models it creates are ready to be easily taken to the next stage using the full, paid product, BricsCAD BIM.
It's not SketchUp
There are superficial similarities between Shape and the discarded-by-Google product, Trimble SketchUp.
However, there are very significant differences. SketchUp Free is a cloud-based product that works inside your browser (the paid product is currently a desktop product). Shape is a standalone application that does not require the Internet. SketchUp has its own file formats; getting those models into CAD or BIM is fraught. Shape is not just using industry-standard DWG file format, it's a proper, efficient, accurate CAD application. Because it's a cut-down version of what Bricsys is hoping you will use to fully develop the models later, there is no translation. The model you build in Shape opens directly in BricsCAD BIM where automatic classification of building elements can take place.
BricsCAD Shape. It's free, it's easy, it's DWG, it's CAD, it's 3D, and it's a pathway to BIM. It could change the game. I have no way of predicting whether that will happen. But if it does, it'll be another kick in the guts for a dormant Autodesk that has largely given up on improving its products.