If you follow certain people on social media this may not be news to you, but Autodesk has just suffered a shocking loss. People at SOLIDWORKS World were amazed to see Lynn Allen, probably the most famous person in CAD, and for decades the face of Autodesk, in attendance.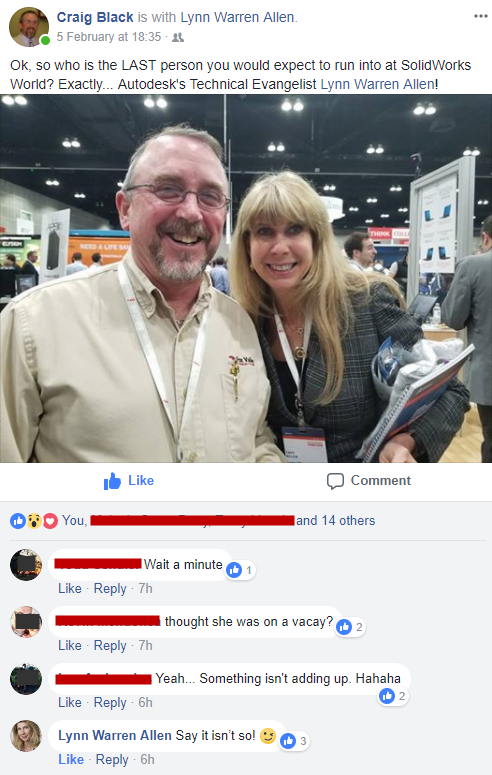 Image credit: Craig Black via Facebook
No, she wasn't spying on the competition; she's praised aspects of what Dassault is doing and has described the event as "pretty amazing". In her own words, she's now a free agent. Lynn, a highly professional and entertaining presenter, was undoubtedly Autodesk's biggest drawcard. No more.
This story is much bigger than one person,though. Other highly competent long-term Adeskers to move on include docs and tips wiz Heidi Hewett, highly professional AU manager Joseph Wurcher, Inventor guru Jay Tedeschi, marketing manager Justin Hoey and PR director Noah Cole. Just the people I've mentioned here have well over a hundred years of experience and knowledge, but they are just a handful of the 13% of employees Autodesk is losing this time round. This cull is following on from another 10%, not that long ago.
The entire Neuchatel office in Switzerland has been closed, although Kean Walmsley survived (thankfully). I guess if you're just holding station on improving your products and moving into rent-the-same-thing-every-year-and-jack-the-prices-up mode then there's not much call for research and development.
I'm not going to speculate on whether any of the people I've mentioned were pushed out, took advantage of an attractive redundancy offer, or just decided it was an opportune moment to jump from a ship of questionable soundness. That's a private matter between those people and their former employer. I will say that if Autodesk really wanted to retain these people it could probably have made that happen.
Why would Autodesk allow this much knowledge and skill to walk away? Same answer with everything Autodesk does these days that has people scratching their heads: money. Long-termers cost more money, so lopping them looks like an easy way to cut costs. If they're competent and knowledgeable they're worth every penny, though. Top people can be many times more productive and valuable than not-so-top people. Given Autodesk's not-yet-successful attempt to be Adobe, the beancounters are desperate to make it look like the bottom line is about to improve.
While it's true that the graveyard is full of indispensable people, my experience tells me that losing top people is almost always a false economy. Because the financial penalties of lost institutional knowledge often aren't directly attributable and don't show up on a spreadsheet in a handy "losing X cost us $Y" format, it's easy to pretend those penalties don't exist. They do, they're real, and they're coming Autodesk's way.
I wish all of the people affected by these events all the best with their future. Onwards and upwards!
Edit: Principal User Experience Designer Bill Glennie, familiar to many pre-release testers of Autodesk products, has also gone.