Edit (October 2016): see this post to download Autodesk software easily.
It's AutoCAD new release time again and many of you will want to get hold of the trial software, or download the production software from the trial site rather than the Subscription site for performance or other reasons (the resultant downloads are identical). As in previous years, Autodesk is heavily pushing the use of the Akamai Download Manager to download it, going to what I consider unethical lengths to do so. For a variety of reasons, some of which I'm not at liberty to discuss and others of which I have already discussed extensively, I strongly recommend not installing this software. In my view, it is a very bad idea to let anything by Akamai anywhere near your computer. If you're in a secure corporate environment, it's quite likely that you won't be able to do so, or if you can, that it won't work anyway.
Although the Autodesk download process gives every impression that you have no choice in the matter, this is not true. In the past I have had to install an unsupported browser (Opera) to get at a straightforward download link, but this time it is possible to get the software without having to resort to that. Here's what to do. Go to http://usa.autodesk.com/autocad/trial/, fill in the form and click the Download Now button. You will be presented with this screen: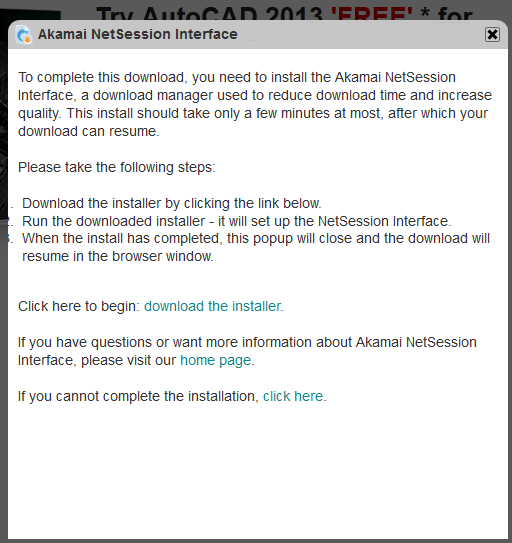 This is a pack of lies. Ignore everything except the line that says If you cannot complete the installation, click here. Click that and you will see this: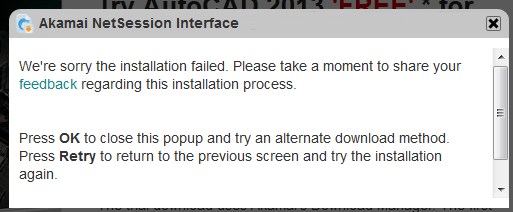 The feedback link takes you to Akamai's site so it's probably not useful as a mechanism to let Autodesk know what you think of its use of the Akamai Download Manager. I have used it in the past and it's a black hole, so don't waste your time there.
As you can see, there may not be an OK button visible, but if you scroll down you will see it. Click it.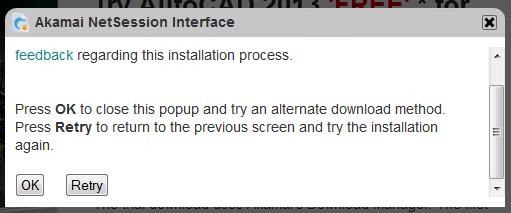 That will get you to this screen: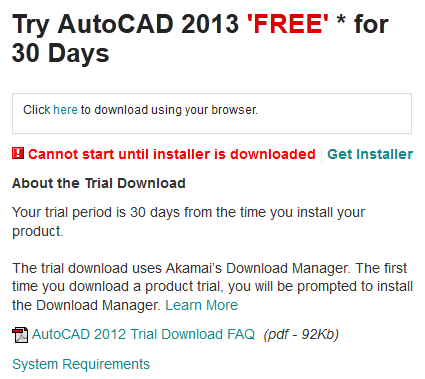 More misleading stuff here, but the important thing is the text that says Click here to download using your browser. Click that and you can start actually downloading the installation executable.
The links I eventually got to using this process were:
http://trial.autodesk.com/SWDLDDLM/2013/ACD/ESD/AutoCAD_2013_English_Win_32bit.exe
http://trial.autodesk.com/SWDLDDLM/2013/ACD/ESD/AutoCAD_2013_English_Win_64bit.exe
At home, using Firefox 11.0, each download took just under a quarter of an hour without using any special download manager software. These links may not work for you and your experience may vary depending on your browser, location and language.
Oh, and Autodesk, the 2013 trial download page is still called AutoCAD 2012 – Free Trial – Download AutoCAD Trial – Autodesk and contains a link to the 2012 download FAQ. You might want to change that. You might also want to change the wording on the messages shown above to something less deceptive, especially if you're interested in how much your customers trust you in future. Finally, I strongly suggest you give up on pushing this Akamai junk. Please.