Note: this post is now out of date. AVA no longer provides the facility mentioned here. Instead, it tries (and fails) to be clever.
For reasons beyond my understanding, Autodesk chooses to make life difficult for customers and prospective customers who want to download its products by imposing the use of a download manager (DLM) by Akamai. You really don't want to let such a thing loose on your system even if it works, for reasons that have been explained in previous posts.
Until a couple of years ago, Autodesk allowed prospective customers to get at a direct download link after jumping through a few hoops and ignoring a bunch of bullshit warnings, but in recent times even that small measure of semi-decency has been removed. It became impossible for anyone who couldn't or wouldn't use the Akamai DLM to try out Autodesk's products! Here's what you get these days; there is no direct browser download option to be found, just a downloader stub you're expected to install and give open slather on your system. Don't.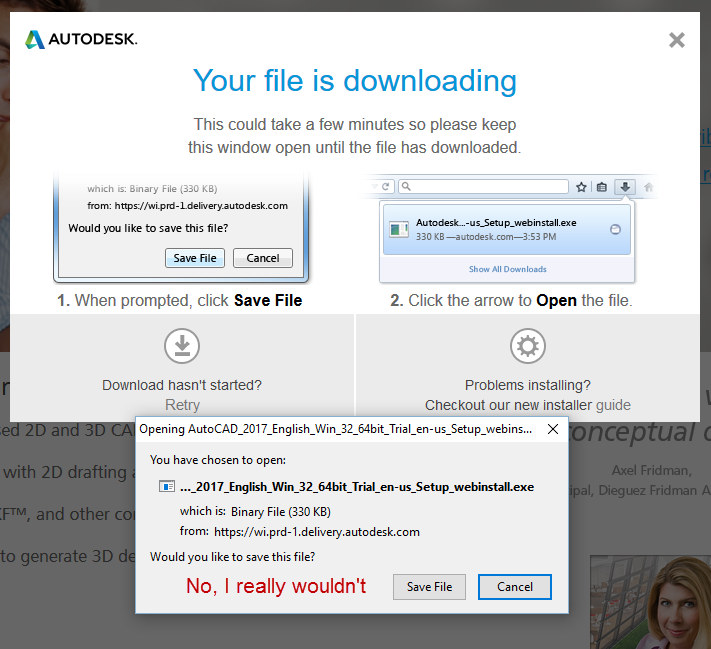 Yes, I know this is marketing lunacy, and several years ago I made Autodesk very aware of this via direct email contact. Still, Autodesk remains determined to hamper itself in this way and there seemed to be no prospect of a solution. The old loophole of using an unsupported browser (e.g. Opera) was closed off a while ago.
But wait! There's an answer! While researching something unrelated, I came across a reference to the Autodesk Virtual Agent and had a look at it. Lo and behold, that contains a bunch of straightforward DLM-free links to the Autodesk product range!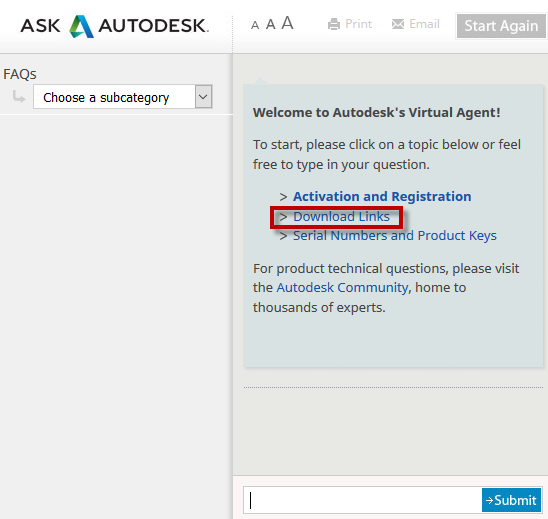 Click on Download Links, burrow down to find your product and direct links to the installers are right there! Use your plain browser, a DLM built into your browser, or a DLM of your choice. Easy! Straightforward! Amazing! Unfortunately, this facility only appears to be available in English.
To sum up, if you want to download an English-language Autodesk product in a straightforward manner:
Here's the link! (link removed as it is now broken)