I'm no financial analyst, so I'll just leave these graphs here for your own interpretation. They show the profit/loss numbers for two software companies beginning with A that have abandoned perpetual license sales and gone all-subscription (rental).
Among other significant differences, one company went with very low rental prices while the other has extremely high rental prices. How have these differing strategies played out for Adobe and Autodesk? Green shows profit; red shows loss.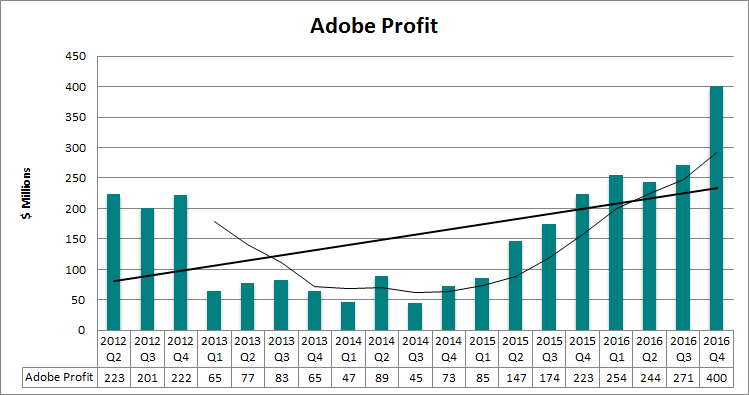 Adobe moved to the all-rental model earlier than Autodesk. The Autodesk graph therefore covers a shorter period than the Adobe one. Feel free to slide the Autodesk one along to the point you think best matches the equivalent point in the Adobe timeline.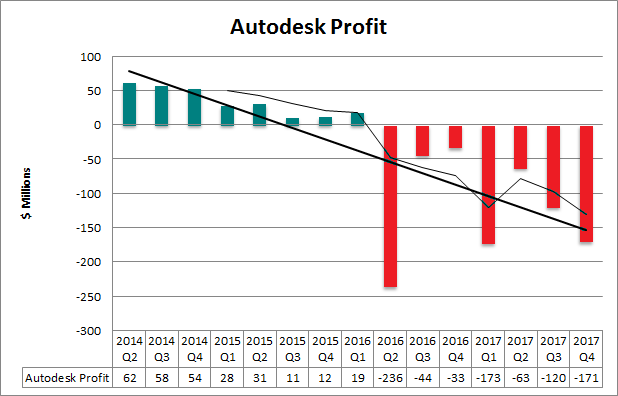 The black lines are trend lines. The thick one is linear, the thin one is a 4-quarter moving average. The linear trend lines are not directly comparable because of the different timeframes covered (the Adobe one includes the revenue recovery stage which Autodesk has yet to enter).
Neither of these graphs reflect deferred revenue (money that is received but not counted immediately). Full details of Autodesk's financials are available here. Make your own financial decisions based on your own interpretations and/or using the advice of parties better qualified than myself. For now at least, the stock market loves what Autodesk is doing, even if Autodesk customers don't. I just found the comparison interesting.