Well, this is a fun video for CAD geeks. The third in the BricsCAD Unplugged series of weekly webcasts, this one promotes the Bricsys 2018 conference which will be held on 23 and 24 October in London.
These live broadcasts run on the Bricsys Facebook page and are then quickly transferred to YouTube.
This one is interesting because of the people in it and some interesting news. It features Bricsys regulars Don Strimbu, Heidi Hewett, Vince Aman and Matt Olding, but also a couple of special guests. First on the scene is Robert Green (see 4:57) but the real surprise comes at 9:23 when somebody who may be familiar to you appeared in the bottom right corner:

The fun part comes when Lynn is "persuaded" with the promise of beer to turn up in London. Lynn won't be going to AU this year ("My invitation must have got lost in the mail!"), along with quite a few others. So if you're going to Vegas you'll have to put up with somebody slightly less popular on stage instead.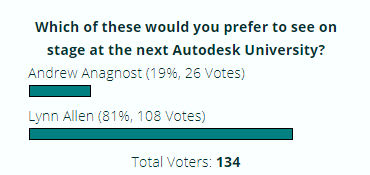 So Bricsys 2018 in London is where all the cool people will be. Lynn and Heidi will be there and Robert will be rocking out with the Bricsys band. I might not be lead-guitarist-cool but I'll be there too. What is said in the video about Bricsys conferences being great for meeting people is very true. Everybody's approachable, right up to Bricsys CEO Erik De Keyser, so come up and say hello.
If you want to join us, sign up here. At the time of writing, there are just a few hours until the end of Early Bird pricing on the tickets.
Did I mention it's being held in a brewery?
Oh, and there's some CAD stuff.*
Here's the full video:
* The CAD stuff alone made the Bricsys Conferences well worth attending for me in past years.