If you're an AutoCAD user, you may have been intrigued by the news about the new way Autodesk is bundling up AutoCAD 2019 with various verticals (perpetual license owners need not apply). This is Autodesk's latest attempt to promote its subscription model and raise prices again. 7% this time, but much more to come. But never mind that, the main point is that you're getting a whole lot of stuff, and who could say that's not a good thing?
So it's most unfortunate for Autodesk that the AutoCAD 2019 rollout has been an unmitigated disaster.
My own experiences in trying to download the product were sub-optimal, but I later learned that I was one of the lucky ones. Subscription users not only had problems with AutoCAD 2019, they found their AutoCAD 2018s were broken too, victims of an Autodesk licensing system meltdown. That's right, the AutoCAD 2019 launch acted as a remote kill-switch for people's production software.
Perpetual license users were fine, of course. Only subscription customers suffered. There's a lesson there that should not go unnoticed.
Back to my own experiences, to begin with I couldn't download AutoCAD 2019 anywhere, despite it being having been announced everywhere some hours earlier. Autodesk Account wasn't showing 2019, but it was showing this:

The usual workaround method of downloading the free trial wasn't any better; that was still on 2018. I even tried installing the execrable Autodesk desktop app (temporarily!), but there was no sign of AutoCAD 2019 there either.
I've never had any success using Autodesk's AVA bot for any real questions, but there was a time when it served as a gateway to Akamai-free downloads, so I tried that. Unfortunately, AVA has been "improved" and that once-excellent feature is gone. I did try asking AVA for the download link to AutoCAD 2019, but that didn't go well.
First attempt:

Second attempt: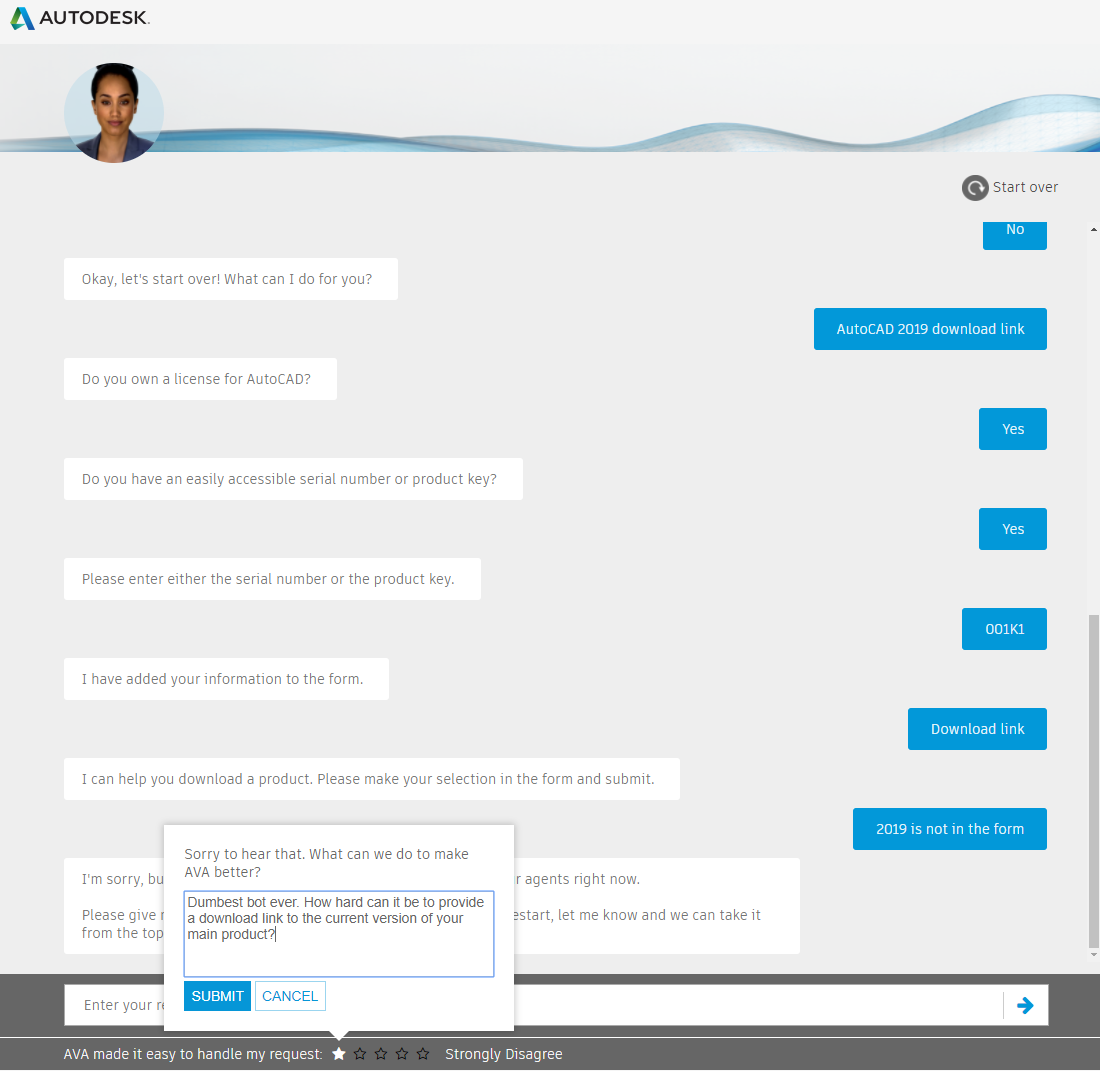 I mentioned my difficulties on Twitter and a few hours later the long-suffering but always-professional @AutodeskHelp people offered this:
Despite appearances, this actually turned out to be helpful because by then the product trial download had been fixed and was offering 2019 rather than 2018. I still didn't see a direct link and against my better judgement tolerated a very temporary installation of Autodesk's nasty Akamai download manager. About 5 minutes into the download it said it was going to take about 9 hours so I went away and left it. I returned within the hour to find it was finished, so I have no idea how long it actually took. After immediately uninstalling all traces of Akamai and Autodesk desktop app, I was able to start my evaluation.
So how's the product? Pretty much the same as 2018, except with a better drawing compare tool. Oh, and the icons are better. The first command I ran in the new release reminded me that some things never change. The ancient rectangular pickbox bug popped in to see me, just like an old friend.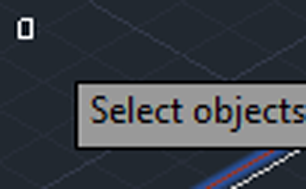 I've been warmed by the familiar, comforting experience of this and various other early 90s-era bugs and limitations, where the easiest workaround is to use a competitor's product to do those bits. More on that in a future post.
An hour or so into using the product saw it crash and burn for the first time: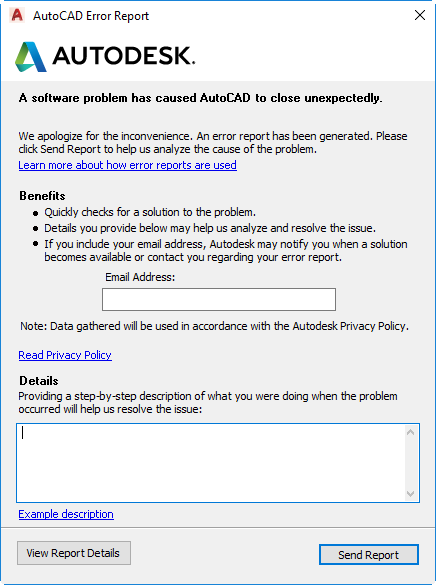 Don't take my word for it, though; here are some comments from various users, CAD Managers and long-term Autodesk fans, most of whom had a worse time of it than I did. It's not just AutoCAD; LT and Navisworks are definitely affected and there may be others. Comments here have been reproduced from various sources under fair use; names have been removed to protect the innocent.
I think it is safe to say that Autodesk are having a very bad day. Account and activation issues, subscription access issues, forum login issues, kudos and comments blocked to some users…
I installed the brand new @Navisworks Manage 2019 last night, and this morning I get the "Your trial has expired" !!!
I can safely say that 'unimpressed' is my status right now with the licencing idiocy going on. Not only can I not get the 2019 version, but my 2018 version has stopped working too.
Looks like all subscription (not maintenance or legacy) software is affected this way: logging in and out as well as workarounds posted are not working. Now this is a good reason to abandon Autodesk subscription model.
Good news: Autodesk began rollout of 2019 licenses! Bad news: It might break your 2018 licenses.
Hard to imagine this rollout going any worse.
[Autodesk]"Hold my beer…."
2.5 days without AutoCAD available. I just wish Autodesk would have told us so I could have gone on vacation. Instead, I will have to work thru the weekend to make up lost time.
I love Autodesk and their software, but they have just ditched an entire generation of Autodesk 'rockstars' and their subscription portal isn't working. It really doesn't look good, does it?
my 2018 is hosed on 3 devices
Unfortunately the situation has lasted for nearly 24 hours and no work done. Can we send the bill to Autodesk?
so I thought I'd try and activate LT
LOL

Although some parts of this are supposedly fixed, it's not over yet. As I type this, people are still reporting problems and Autodesk is still offering apologies:

Even now, AVA is still completely in the dark about the current release of Autodesk's traditional flagship product.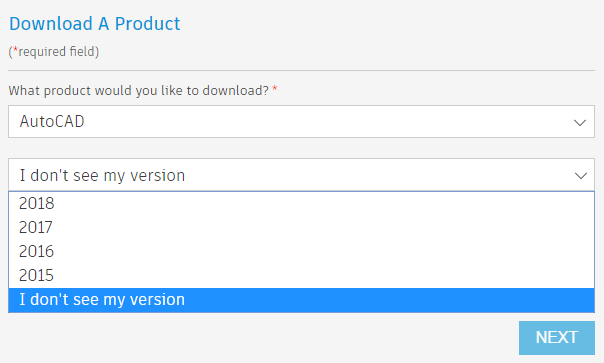 It's great to see users helping each other, though. You may find this Autodesk Forum post by Travis Nave useful as an interim workaround. Also, in a marvellous continuation of McNeel's free service to the AutoCAD (and BricsCAD) LISP community, DOSLib has been made available for AutoCAD 2019 even before many people were even able to get hold of the software it runs on. That's what I call service!
All in all, this has not the best start to AutoCAD's brave new world of oneness. How did it go for you?