CAD's best LISP development environment has come to the best "AutoCAD for Mac". It should come as no surprise to anyone that this has occurred without Autodesk's involvement.
What's happened?
With the release of BricsCAD (Mac) V18.2 (currently V18.2.23-1 to be precise), BLADE (BricsCAD's much-superior equivalent to VLIDE) has been added to BricsCAD
See here for the release notes and here to download. Make sure you select the Mac version: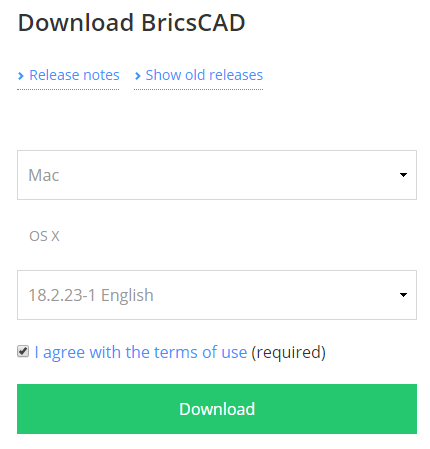 Significance
This is pretty significant for anybody serious about using DWG-based CAD on the Mac. AutoCAD without LISP is hardly worthy of the name, which is why I've never been keen on AutoCAD LT from the moment LISP was yanked out of it just before release in the early 90s. There has never been an integrated development environment for AutoCAD for Mac (either in the first iteration in the 1990s or the second attempt in the 2010s) and I think I can safely predict that there's never going to be one. I expect AutoCAD for Mac's LISP to remain forever in 1990 mode.
Compatibility
One problem a small number of users may face when developing for Mac with BLADE is that of downward compatibility. In case you're wondering, BricsCAD (Mac) to AutoCAD for Mac is very much a downward direction, particularly in the area of LISP. The LISP in AutoCAD for Mac is famously half-baked with large portions of functionality missing, including no ability to control dialog boxes. BricsCAD (Mac)'s LISP is very much more capable, so while compatibility between AutoCAD for Windows and BricsCAD (Mac) is strong, you can't say the same for LISP compatibility between AutoCAD for Windows and AutoCAD for Mac.
Half of the stuff you write for AutoCAD in Windows is just going to fail when you try to run it in AutoCAD for Mac. Much more of it is going to work in BricsCAD (Mac). While you can now write, debug and run your LISP code efficiently in BricsCAD (Mac) and it's practically guaranteed to run just fine in AutoCAD and BricsCAD for Windows, it will be very easy to write stuff in BricsCAD (Mac) that doesn't work in AutoCAD for Mac. Of course, the same downward compatibility problem applies to writing stuff in AutoCAD for Windows using VLIDE.
If you've moved on completely from AutoCAD for Mac to BricsCAD (Mac), that's not going to be a problem. Bircsys building a notably better product that's significantly more compatible with the main game is not something anybody could reasonably condemn. However, but it's something to bear in mind if you are hoping to write code that runs on both AutoCAD and BricsCAD for Mac.
Summary
That caveat aside, it's all good news for Mac CAD users. You already had a product available that would run a much higher percentage of the huge library of LISP out there than AutoCAD for Mac would. For the first time in history, you now also have access to a professional LISP development tool. Lucky for you, it's the best such tool on the market.