Autodesk's cloud-based 3D design tool, Fusion 360, is changing price and structure from 7 October 2018. Whether it's a huge price rise or a huge price drop depends on your perspective.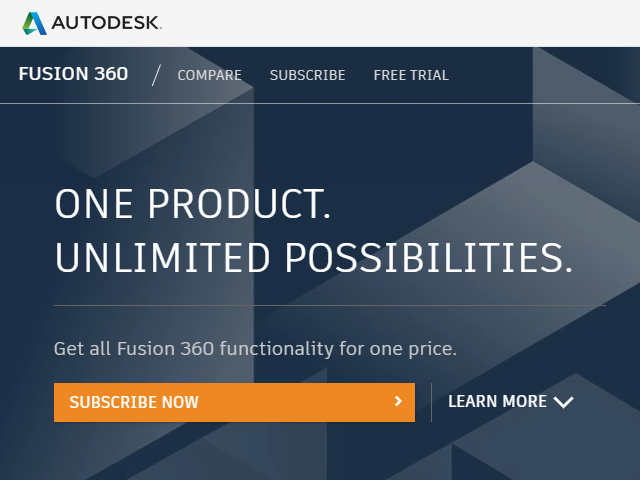 Price rise
The current annual subscription cost for Fusion 360 is US$310 and that's going to change to US$495, which represents a 60% price increase. Existing subscribers are being kept at the same annual rate of US$310 or US$300 (depending on when you first subscribed) "for as long as you renew". Existing subscribers, that looks like a promise to never increase your prices as long as you keep up the payments. Make sure you capture and retain all of Autodesk's statements on this matter, in case that promise eventually gets forgotten.
However, for that amount you'll now be getting the same features that are currently in Fusion 360 Ultimate; the lesser and greater versions are being amalgamated and just called Fusion 360.
Price drop
The current annual subscription cost for Fusion 360 Ultimate is US$1535. As that's going to change to US$495, that represents a 68% price drop.
Is it fair?
If you currently use Fusion 360, even if you have no use for Advanced Simulation, Advanced Manufacturing or Generative Design, it's not bad news. The only downside is that you'll now be paying more if you need to add seats, or if you temporarily drop and resume subscription.
If you currently use Fusion 360 Ultimate, you are probably going to be overjoyed at spending a lot less in future. If you just paid US$3,070.00 for a 2-year subscription that's about to be worth US$990, you might be less pleased. To assuage your ire, Autodesk will be giving you (and all existing annual subscribers) another 24 months subscription, gratis. Still, depending on the term length and renewal timing, some customers are going to be much luckier than others. That might annoy the less fortunate.
I think Autodesk has been very fair and reasonable with the way it has handled these changes. However, it does serve as a reminder that once you're a subscriber, you're at the mercy of your software company.