Thanks to Hans Lammerts on Twitter for pointing out this amusingly cringeworthy AutoCAD 360 YouTube ad:
The guy spilling his coffee and falling over reminds me of the people in those infomercials that can never get the simplest things right:
OK, so the ad's bad, but how's the product? I had a look for myself at the browser version of AutoCAD 360, which is the current name for what has been Visual Tau, Project Butterfly and AutoCAD WS in previous iterations dating back before Autodesk's acquisition of the Israeli technology in 2009.
It's a while since I tried it, so I was interested to see the progress that had been made. After all, CAD in the Cloud has been Autodesk's focus for a long time now, and as this is likely the first product people try out, you'd expect it to be pretty dazzlingly good after all those years of development, right?
Interestingly, it's still called a Beta, which hardly inspires confidence. Nevertheless, it didn't misbehave for me, at least to begin with. It didn't do very much at all for me, though.
On opening a very simple small 2D drawing, the first thing I noticed was the white background. As the drawing contained yellow text, that was no good so I looked for the settings to change the background to black. Couldn't find any settings. I guess I didn't really want to read that text anyway.
Nevertheless, I could zoom and pan around OK with tolerable performance. When I tried to select some objects to edit them, nothing happened. I looked around for buttons to press to do things. There was very little to see, and nothing I could find for doing anything much other than redlining over the top of what's already there.
The second time I tried to open the same drawing, it just hung there, displaying a blue propeller thingy: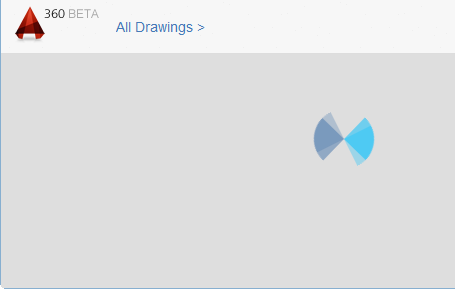 I gave up and tried again. This time, things were different! It locked slightly differently:
Now I see why it's still called Beta.
To be fair, it hasn't locked like this for me in the past so maybe it's a one-off. Assuming it's working, it's a useful enough viewer. It has some limited markup functionality. That's it. It's free, and you get what you pay for.
Calling it AutoCAD 360 is highly dubious. It's not AutoCAD or anything remotely close to it. It's not even CAD. It's a simple online product with capabilities that fall well short of the weakest CAD application back in the bad old days, when people could only dream of something as advanced as the dumb guy's Nokia in the embarrassing Autodesk 360 ad.
There are also mobile versions of the software for iOS and Android. Haven't tried them recently, but when I did they were acceptable viewers. Apparently you can pay for versions that actually let you do things. Go for it if you feel confident in Autodesk's ability to provide a quality product. Me, I'm out.