My first computer was a Dragon 32, which I think I bought in 1982. With a massive 32 kilobytes of RAM and a proper typewriter keyboard, it was quite advanced for a home computer of the time. The Commodore 64 may have had more RAM, but a lot of it was grabbed by its very basic BASIC. I preferred a computer with an ELSE to go with its IF, thanks. Microsoft Extended BASIC for me, not the crummy old BASIC 2.0 of the Commodore. The Commodore 64 was one of the great consumer electronics sales successes of all time. The Dragon, er, wasn't. It lasted less than two years before the Welsh parent company went under.
Inside, it was pretty much a Tandy TRS-80 Color Computer. Outside, it was this: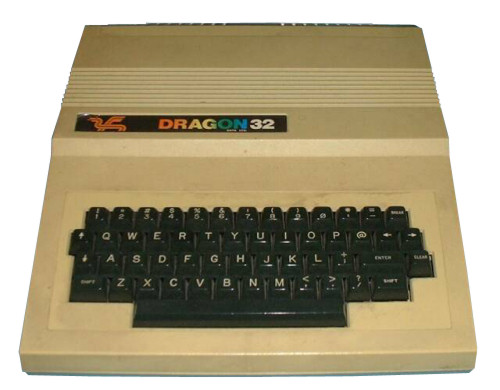 I cut my coding teeth on this beast. The first thing I did with it was to write a parametric 3D bottle design program. I later spent several all-nighters developing what I thought was an awesome space game in BASIC using its limited graphics. I bought a plug-in cartridge that provided me with assembly language facilities. Real nerd stuff.
I sold it to a co-worker just before the company collapsed and replaced it with a Sinclair QL, another great commercial success story. I still have that QL (broken), and another one I bought much later as a replacement. I must get it out one day and see if it still works.
What was your first computer?