Just when I thought I was having a nice vacation from tending the Autodesk Graveyard (see also Autodesk products are falling like parrots), another bunch of former best-thing-ever products have bitten the dust.
This time, it's Autodesk's Gameware middleware products that have been read the Last Rites. Scaleform, Beast, HumanIK and Navigation can no longer be purchased or maintained. If you used these products, support will cease as soon as your existing maintenance agreement expires. More details on cgchannel.com.
That leaves Stingray as the only surviving middleware product (for now). That's probably only still alive because Autodesk wants the halo effect associated with currently-fashionable-again Virtual Reality. But how long that remains enough for survival is anybody's guess.
My brief experience with Stingray at an Autodesk event left me with the impression that it's a fair way short of being a finished product. I have been much more impressed with Autodesk's competition in this area. Autodesk's currently in Product Grim Reaper mode, which is understandable given Autodesk's ridiculously large product portfolio. However, that does mean that potential Stingray users should be very wary of investing time and resources in a bleeding-edge product that might not be around for long.
Anybody care to have a guess at which Autodesk product(s) will be killed off next?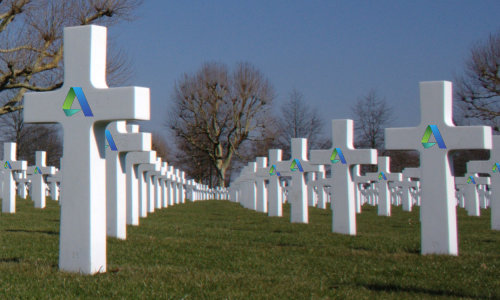 Image of war graves by Arne Hückelheim.
No disrespect intended to those who paid the ultimate sacrifice. Lest we forget.