Just when you think it's safe to walk across the cattle enclosure in your best shoes, Autodesk drops another steaming pile of spin for its customers to step into.
Here, I'm skewering the welcome post to Autodesk's Moving to Subscription forum. However, I believe I should really acknowledge the unnamed author of the Important Updates on Maintenance Plans FAQ, which the welcome post has merely paraphrased for simplicity.
There's so much bullshit in there that I'm going to split my exploration of it into two posts. Let's put on some rubber gloves and start delving around in the muck, shall we?
Autodesk believes that subscribing is the best way for our customers to get the greatest value from our tools and technologies
Bullshit. Autodesk believes the opposite, as does anyone else with more than two brain cells to rub together. The whole idea is to get us paying the most for the least (the worst value), not the least for the most (the greatest value). Paying treble for the same product really isn't the greatest value, is it? Nobody, not even Autodesk, believes that it is.
Don't take my word for it, though. Have a look at this 2013 Autodesk video in which the following truth is uttered by Autodesk Entertainment Industry Manager, Maurice Patel:
We actually see that for customers that have long-term production needs, where they need software day-in, day-out for multiple years, then the perpetual offering is the most cost-effective offering.
Ouch! When a company contradicts its own counterfactual crap, you know the bullshit meter is well into the red.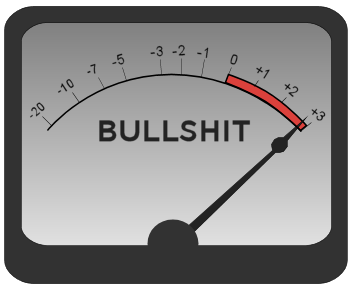 Next, have a look at this gem:
subscription will fundamentally change how we deliver extended capabilities and new functionalities through connected services
Bullshit. Subscription (rental) is a payment method, not a technology. It is not intricately linked with any particular software or solution. It need not affect how Autodesk delivers anything.
Only with subscription will you realize greater value through the following benefits: Latest and greatest product capabilities – Get access to Autodesk's ongoing stream of innovation
Bullshit. For AutoCAD users, Autodesk's stream of innovation dried to a tiny trickle years ago. Rental, where the whole idea is to pay for access to the software rather than in exchange for improvements to it, will only make things worse.
updates to core products…and additional capabilities as soon as they are available
Bullshit. Updates are also provided to customers on maintenance. Of course, that's how it has to be; if they weren't that would be an outrageous breach of trust (and contract). There is no need for the payment method to have any effect on how improvements are delivered.
cloud services for desktop products
Bullshit. Cloud services for desktop products are also available to customers on maintenance, and if Autodesk wants to continue pushing its cloudy vision it will have to keep it that way. Not that you really want to rely on Autodesk's cloud services.
at no additional cost.
Bullshit. There is plenty of additional cost when compared with maintenance. Rental costs three times as much, and will still be twice the price even in a few years after the price increases.